Be honest: ever since the interstate travel ban was lifted, Agoda, Booking.com and Airbnb have all taken up permanent residence in your browsing history, haven't they? Don't worry – you're not the only ones! The travel bug has bitten team makchic badly too, and we're all dreaming of a break with our loved ones once the school holidays roll around next month. Here are some of our tried-and-true staycation spots that we can't wait to escape to!
Outside of KL
Nora's pick
Lush, peaceful, and only an hour and a half away from KL, this large green property with a river running through it boasts beautiful traditional accommodations inspired by kampung living – but make it luxe (some of them have their own hot tubs)! Even though guests can share the common areas and amenities, such as the game room, the river and the swimming pool at the top of the hill, the large property ensures privacy for each family. You may even need to use their buggy service to go from one place to another.
The amazing hospitality and friendliness of the owners is the key reason we keep returning for family staycations! Some of our favourite highlights include:
the Instaworthy property (there's a reason many couples choose this place as their destination wedding venue, including Yuna!);

a beautiful saltwater infinity pool, overlooking lush greenery;

a clean and shallow river for safe dipping;

farm animals, such as ducks and chicken, on the property that the kids can pet; 

setup help with barbecue dinners (so you don't have to spend ages getting the fire started!).
Tip: Aside from barbecue food, bring lots of snacks and drinks for the kids, as the venue isn't close to shops for you to pop out to. The nasi lemak that they usually serve for breakfast is delicious, but it may be a tad too spicy for the little ones.
Lu Sean's pick
Templer Park Rainforest Retreat, Rawang
Nestled into lush greenery, the Templer Park Rainforest Retreat was a relaxing getaway for our group of four families. Spread out over a large area with a lovely rainforest and golf course view, we had a basic room per family in the Villa section. Most of the time was spent in the al fresco living area, playing board games, hula hooping in the garden, or dipping in the pool. A simple breakfast was provided and there are DIY BBQ and full kitchen facilities available. We're hoping to make a return visit soon and visit the nearby Kanching Eco Forest Park with its seven tiers of waterfalls! And the best part? It's only a 30-minute drive from Kuala Lumpur.
Website | Instagram | Facebook
Kimberly's pick
Tiger Rock, Pangkor Island
Tucked away on Pangkor Island is a hidden gem of a holiday retreat – an artist's hideaway filled with colour, creativity and an abiding respect for nature. The private home of artist Rebecca Duckett-Wilkinson and her husband, David Wilkinson, Tiger Rock is chockablock with character – from its quirky interiors and gorgeous murals painted by Rebecca herself, to the treehouse-like construction of the retreat's unique rooms and houses, each built around natural rock formations and the surrounding flora and fauna in a very Robinson Crusoe-meets-boho-chic manner!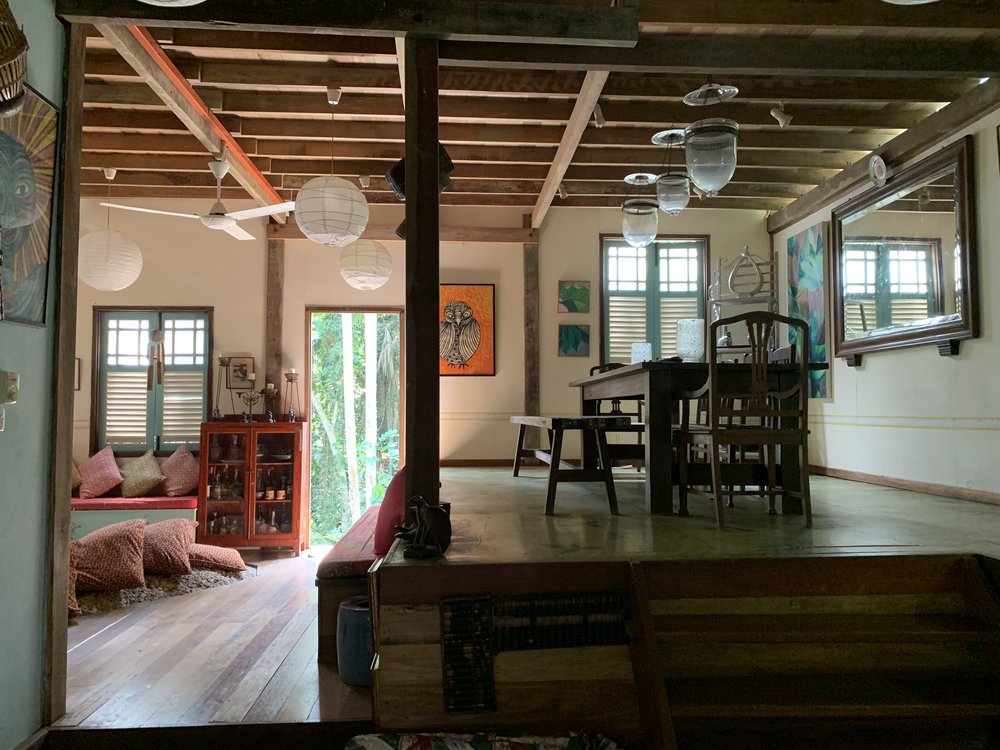 We stayed at the Main House for 2 nights, and enjoyed the serenity of the entire retreat for ourselves, making full use of Tiger Rock's stunning saltwater swimming pool, amidst its tropical rainforest setting.
Mr Mohan, the caretaker at Tiger Rock (and its warm and welcoming heart) was an absolute delight. He went above and beyond to ensure that our stay with two little ones went smoothly, taking us on a tour of the island and sharing local secrets. And how could I possibly forget about the food? Ms Bavanni's mouth-watering menu each day made it difficult for us to leave the premises, so spoiled were we on a diet of impeccable local cuisine, made with only the freshest of ingredients.  My family and I are definitely itching to return to this island home soon!
Website | Instagram | Facebook
In the Heart of the City
Laych's picks
If you fancy a staycation for yourself or with a family member who needs some pampering, then Westin Kuala Lumpur may just do the trick. The best part? It is situated right in front of Pavilion Kuala Lumpur, which means you can do some leisurely shopping or window shopping at any time of the day, and still come back for a mid-day snooze. I took my mother for a little staycation treat and she loved the relaxed, easy going days. Their Westin Heavenly Beds always make for a great night's sleep, and if you bring your children along, their outdoor pool is decently sized and nicely shaded. The location, however, is still the best draw, so for a really restful stay and good service, this hotel is worth a visit.
A charming and quaint hotel, The Majestic Hotel offers a sweet staycation if you just want to stay put and enjoy their spacious and comfortable rooms. The friendly staff were very good with children and it was a pleasure to enjoy their different dining options, such as the Colonial Cafe and Contango. It is also close to family attractions like the Bird Park, Butterfly Park and Lake Gardens, so this is a great place to base yourself if you want to explore these places with the kids and come back to some comfort in just a few minutes' drive!
And for those who fancy a city getaway with their significant others…
Jia-Wei's pick
For me, staycations are taken as a respite from my daily life – a chance to lie in super-comfy hotel beds, have a great hotel breakfast, binge on all my favourite TV shows and just do nothing.
The Chow Kit is the prefect choice for a quick staycation. Their triple-glazed windows provide best of class insulation, so you won't be disturbed by any noise, their TVs allow you to cast your device to it, so you can truly stay in bed and Netflix and chill, while their bespoke essential oil toiletries and fluffy towels make for a luxurious shower experience.
If I need to stretch my legs, the hotel has an intimate collection of local artwork, curated specially for the hotel – just download the PDF guide from the website and it's a self-guided art walk. If I'm feeling adventurous, Chinatown and Jalan Yap Ah Shek is just a short walk away, so I can frequent all the places I don't usually visit, by foot.
Tip: Make sure to order the French Toast for breakfast!
Website | Instagram | Facebook
Najmin's pick
One of KL's latest boutique hotels (having opened its doors a year ago in March 2020, right before the start of the MCO), KLoe Hotel has quickly become a celebrated home for "the creative and the curious." Perfect for those looking beyond the offerings of cookie-cutter chain hotels, you can truly feel the love and passion the owners, Ping Ho and wife, Cheryl Samad, have poured out into this beautiful property. Gorgeous Instagrammable features abound, providing an unashamed celebration of local craftsmanship in the hotel's furniture and artwork, featuring @aureoledesign, @lainfurniture, @fiske_furniture, @bendangstudio_official and @thirty3eleven.
For an extraordinary staycation in the city, I chose one of the 5 bespoke spaces available at KLoe- one that had been specially designed for book lovers, the "Room to Read". With the selection of books curated by the local independent bookstore, @tintabudi, I spent a restful and quiet weekend away from the kids, with the 'Do Not Disturb' sign on, and curled up with a book and coffee. Its location in the city allows you to sample the best KL has to offer, but we didn't need to head far to refuel, with the Instaworthy @monroe.kl serving contemporary Western cuisine and fantastic coffee at the @luckycoffeebar. It's all in the details, and KLoe is perfect for those looking for something a little different, but with the cozy touches of home.
Website | Instagram | Facebook
---
Looking for more staycation spots and travel tips, #makchicmumtribe? We've curated a list of hidden nature getaways for you, as well as a handy guide to safe air travel, if you think you might be ready to take your family vacation to the next level!